Virtual reality in event management is undoubtedly going to become the next trend within the industry. Presently, only a select few companies have realized the value of VR technology and the power of 'reach' that it has. Check out our previous blog post to get a quick overview of the benefits of VR immersive experience.
In the future, companies that did not foresee VR's potential will find it hard to catch up with its competitors. Think of Kodak failing to spot and capitalize on the rise of digital media. This has led to where the company is today, after being the market leader in photography back in its heyday.
Below we investigate 4 ways of how virtual reality in event management is being used.
1. Providing Tours
Apart from social media marketing, more and more businesses are making use of VR content as part of their marketing strategy. Companies that want to showcase a commercial building, holiday resort, or a new city design can leverage VR tours.
Watch this video to see a 360° aerial view of Manhattan, New York, USA:
This very same concept also extends to infrastructure development projects that are in progress, especially those that are seeking investment.
The property is injected into a VR environment to let event attendees see and experience the property via 3D tours. Visitors can easily visualize 3D models of areas, landmarks and facilities through a VR headset.
2. Attending Multiple Events From a Single Location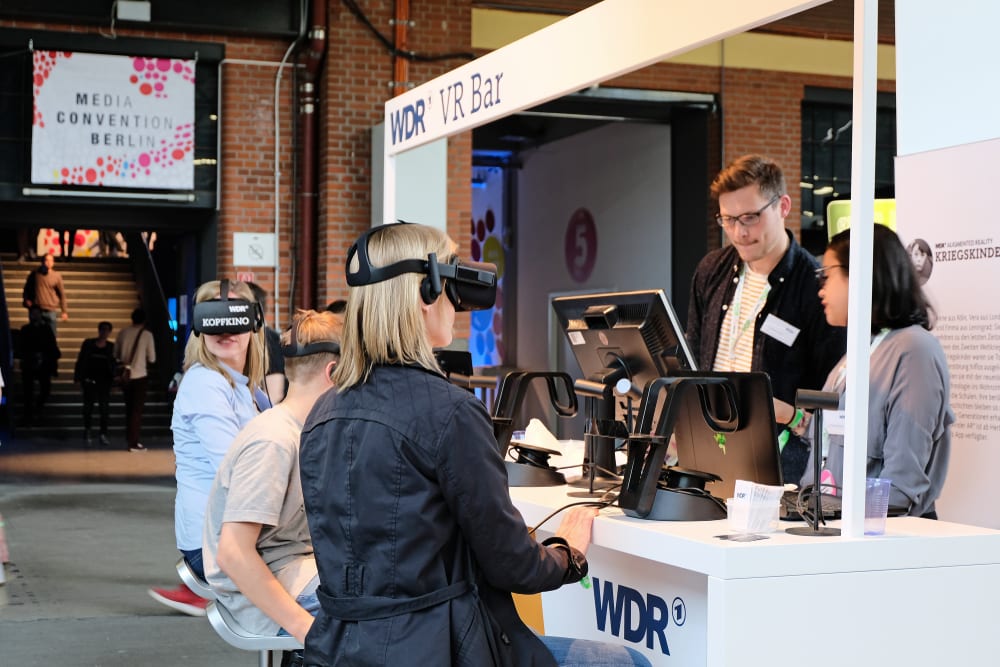 Attending another event while you are already at an event venue may sound a little out of the ordinary. These days, event planning teams are using VR to give people the option to attend multiple events from the same location. For example, a blockchain technology trade show could have several tech companies advertising different starting times for their own events.
Interested parties can hop from one tech event to another, gaining insights on up and coming blockchain tech projects. Attendees do not have to travel the globe or attend each of these events on different days of the year. This is very similar to a cramming session but using VR to achieve it.
3. Bringing People from Other Locations into The Same Event
Virtual reality has the ability to bring people from all over the globe together into the same event. Attendees meet in the same place at the same time without physically being in the same location.
Participants can walk around the event space, through showrooms, and even attend workshops complete with an advanced audio experience. One area of VR that will soon be popular is the coming together of music fans in VR concerts.
The beauty of this concept is that this strategy can turn into a huge spider web network. For example, the same blockchain event could be held in New York, London, Dubai, Tokyo, and Melbourne where attendees physically attend.
Outside of the event locations, the actual blockchain events for each technology are held at the blockchain tech company's headquarters. People from all the aforementioned cities then zoom into the blockchain company through a live stream simultaneously.
As a result, multiple events spread across the globe are zooming into other events being held at the company headquarters. Businesses will be able to attract huge global audiences on the same day from several locations in the real world.
4. Social Media Networking Via Virtual Reality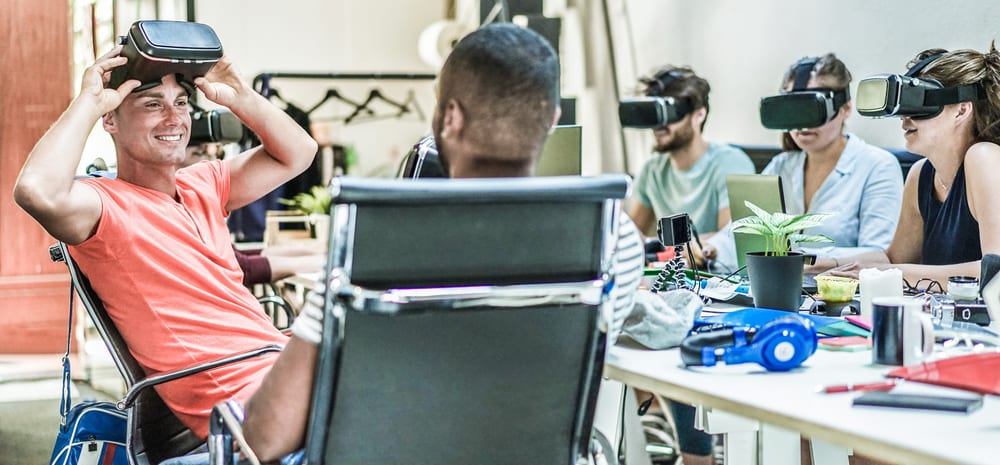 Social media sites have certainly helped to connect the world. These days, people who meet on holidays can stay connected. Like-minded individuals can join a group to share opinions via social media. Indeed, social media has changed the way we interact with one another and share information.
At first, we were limited to meeting locally, then social networks gave us the means to meet online. Now, virtual reality is currently poised to offer a further upgrade to how we interact socially.
Facebook has already launched its Facebook 360 chat app. VRChat has created a VR social game that can be downloaded from the gaming provider Steam. YouTube has a virtual reality application available on Google Play for devices such as Oculus Go and Oculus Rift.
Today, event planners are utilizing VR apps to connect people together in scenarios that would otherwise need interactions in real life.
Job interviews
Presentations
Product showcasing
Group discussions
Sales pitches
Most companies require an events management company to set these events up through the use of social media platforms. Otherwise, they would hire their own in-house teams if they require such events regularly for their business.
To Sum Up
In this guide, we have touched on 4 ways of how virtual reality in event management is being used now and in the future. It may seem a little far-fetched right now, but so did touchscreen smartphones, internet, and portable laptop computers previously.
In fact, the smartphone was the last piece of technology to have a major influence on our day to day lives. Mobile phones have become an affordable addition to our lives as the need for faster communications grows.
The next big thing to have a major impact on the event industry is most certainly going to be virtual reality. Like how the internet and smartphones have changed the world, virtual reality will soon become an integral part of our lives.
Feel free to drop us a message if you are looking to hire a VR app development company to develop VR immersive content for your business.