What is 360 VR headsets?
360 VR (Virtual Reality) is a highly interactive content that completely immerses the user into the content of VR itself. It enables users to experience something similar to the real world or even an entirely different world.
Users are able to interact while visualizing the content. VR headsets can be in various forms, including real-time rendered 3D games, real-time or previously captured video and computer-generated imagery (CGI).
Here's a VR 360 degree video where you can explore the world:
[ux_video url="https://www.youtube.com/watch?v=QKm-SOOMC4c"]
You can view it on mobile apps, desktops and smart TVs. You can also view it on VR headsets such as
Oculus Go
or
HTC Vive Pro
. Using VR can help you to see a better perspective of the visuals.
One of the features is that users can move their heads while wearing the headset. By doing so, they can explore pretty much the whole content. This is because 360 Virtual Reality responds to any device movement.
For example, imagine that you are outdoors. When you move your head upwards, you will be able to see the bright blue sky.
When you move your head downwards, you will be able to see the ground. It allows you to move around the simulated environment freely.
How did 360 VR come about?

360 VR content can be viewed on mobile, smart TVs, desktops, tablets and also in VR headsets such as Oculus Go or HTC Vive Pro. Using 360 VR can help you to see a better perspective of visuals.
One of the best features that users can optimize is they can move their heads while wearing the VR headsets. By doing so, they can explore almost all of the content as 360 VR responds to any device movement.
This gives them the ability to see more of the content as compared to a normal image or video.
For instance, imagine that you're outdoors and you can see the clear blue sky when you lift your head upwards and you can see the earth when you move your head downwards.
360 VR allows you to move around the simulated environment freely.
This was when VR received more recognition. More industries tapped onto VR projects to help them improve their businesses.
Even schools felt that VR is an effective tool to teach their students. An example of that would be our Cyber Wellness VR project. We did it for IMDA (click here to read more about it).
360 videos reached its peak of popularity since around the year 2015.
In late 2015, Facebook introduced its new feature. Users are able to view the videos in a
360-degree format
. They are able to click and drag the portion of the video that they wish to watch. In the same year, YouTube also introduced
360 video playback
.
Today, VR is the most exciting platform to present contents.
Current Market Trend for 360 Video Cameras
As VR platform grows, the number of 360 cameras also grows. Various 360-degree cameras are in the market right now.
The first camera is the
Yi 360 VR
camera. This camera enables you to shoot 360 videos in 5.7k resolution.
It is the perfect camera for you if you want a 360 videos. The camera is light, small and compact. It gives you the option of capturing 360 footage in bursts or as time-lapses. It is currently on sale for SGD 299.
Moving on, the next camera is the
Vuze XR
camera. This camera allows you to take both 360 photos and videos. It is in the market for SGD 596.12.
The Vuze XR device has two cameras at the top. It is connected to a handgrip. It also has four buttons to allow you to control all of Vuze XR's functions.
The next camera is one of the most expensive 360-degree Virtual Reality cameras.
Insta360 Titan 11k cinematic VR
camera is priced at SGD 21,036.13. It allows you to capture 2D 360/VR images and videos.
Up to an 11k resolution, the camera includes eight 200-degree fisheye lenses and provides natural-looking light even when you are in a pretty dark environment.
Advantages of 360 Virtual Reality
Unlike traditional video contents, it increases the engagement level of a user. With the immersive content that it provides, users can interact with the content itself.
It makes them feel as if they are actually inside the real scene of the content.
Aside from increasing engagement level, it also allows you to experience a place without the need to travel. Just with a VR headset alone, you can have the experience of the whole place.
This is because 360 Virtual Reality enables you to have a wide view of the content. It allows you to go beyond what you usually see in any pictures or content videos.
3d VR is totally safe for training purposes for various sectors. It has been used to train employees, especially if they are situated in a dangerous environment.
For instance, it can come in handy for medical training. Medical trainees do not have to worry about making mistakes during training if it is done through 360 Virtual Reality.
VR 360 video is also useful for educating people. Anyone who wears a VR headset and sees the content will get the same idea of what the content is trying to tell them.
More details about the advantages will be highlighted with the case studies below.
Barrow Brain and Spine Case Study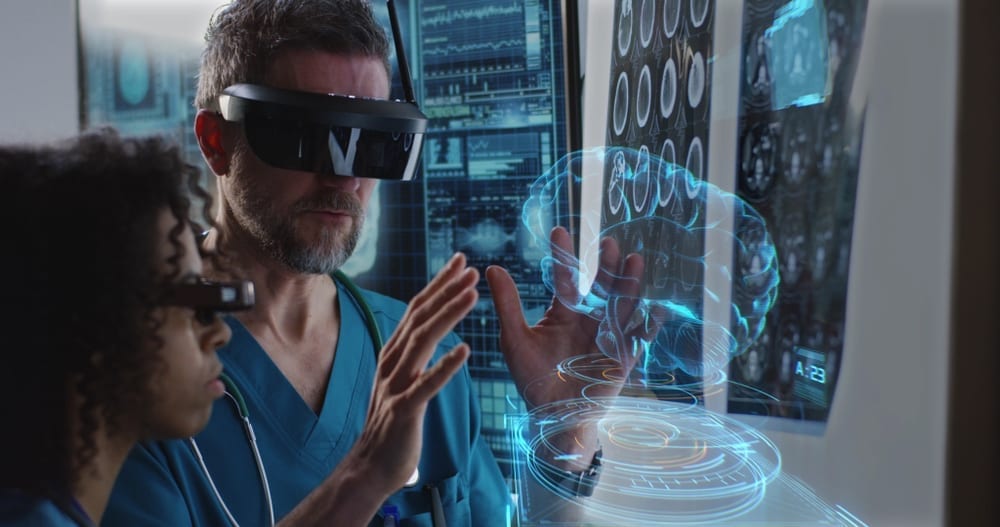 Barrow Brain and Spine in Phoenix, Arizona became the first centre in the Southwest to use 360 Virtual Reality medical visualisation platform in the early 2017.
With the use of the Precision VR (name of the VR video medical visualisation platform), doctors are able to view their patients' anatomy and neurologic conditions.
They can do so by simply swiping their fingers across a touch screen or put on an Oculus Rift or HTC Vive headset. 360 Virtual Reality opens the path to a deeper understanding of treatment plans, enabling a faster recovery process.
Tussing Elementary School Case Study
Aside from the healthcare industry, the education industry also uses it. An example of that would be the use of 360 Virtual Reality at Tussing Elementary School, located in Columbus, Ohio.
Using View-Master VR goggles, the students were able to explore the ocean without having to visit the actual location.
The students were also able to produce a more descriptive, vivid and detailed English writing after experiencing it in VR.
Occupational Safety and Health Case Study
Those in the power industry also use 360 Virtual Reality. An example of this would be the Occupational Safety and Health Training in Virtual Reality content.
The content provides a more immersive experience for the employees in the power industry.
With the content, employees are able to have a better understanding of the Occupational Safety and Health Act in the workplace.
Bosch VR Training Case Study
Bosch wanted to debut its latest in cutting edge HVAC tech in an innovative way, while also providing VR training into how the advanced features worked. In order to do so, Bosch decided to create an original VR experience.
With the VR experience, users were able to move around to view equipment from multiple angles. At the same time, they were able to select icons and additional animation to gain more information on the Bosch HVAC ecosystem's specific functionality.
These case studies show that 360 Virtual Reality is one of the most powerful platforms in today's context. It can help transform businesses.
If you are interested in producing 360 Virtual Reality content for your business after reading this article, feel free to contact our VR app development team.