EduTECH Asia 2019 is an annual technology and education exhibition that brings together hundreds of exhibitors from around the world. A large number of high-end tech projects were showcased. These include VR educational apps, 360 videos, E-learning Content, LMS and much more.
Held at Suntec Singapore Convention & Exhibition Centre for a period of 3 days, from 4-6 November 2019. It is an event for leading solution providers to showcase how technologies can help make education more relevant and improve learning.
It attracts a multitude of conference speakers and exhibitors. This year more than 500 speakers and 200 exhibitors presented their messages and projects.
About 7,000 attendees, mostly educators from various schools, attended the event. More than 200 tech companies and organizations from around the world participated as exhibitors.
Our team was able to reach out to more educators and introduce one of our high profile VR educational app. The VR app was developed for the Association for Special Needs (APSN), titled 'CyberWorld Adventures'. The VR courseware took the students through an educational experience that taught them a lot of basics to stay safe online.
The 'CyberWorld Adventures' VR Educational App consists of 4 different modules. These modules comprise of educational content covering the concept of cyber wellness. The concept highlights various learning objectives from how to create a strong password to how to react against cyberbullying.
The EduTECH Asia 2019 event was a good opportunity for Pinheads Interactive to meet many interested parties. There were a lot of potential opportunities to work with the education industry in various sectors.
Some educators tried on the headset and were delighted by how immersive learning could be. The overall feedback was very positive.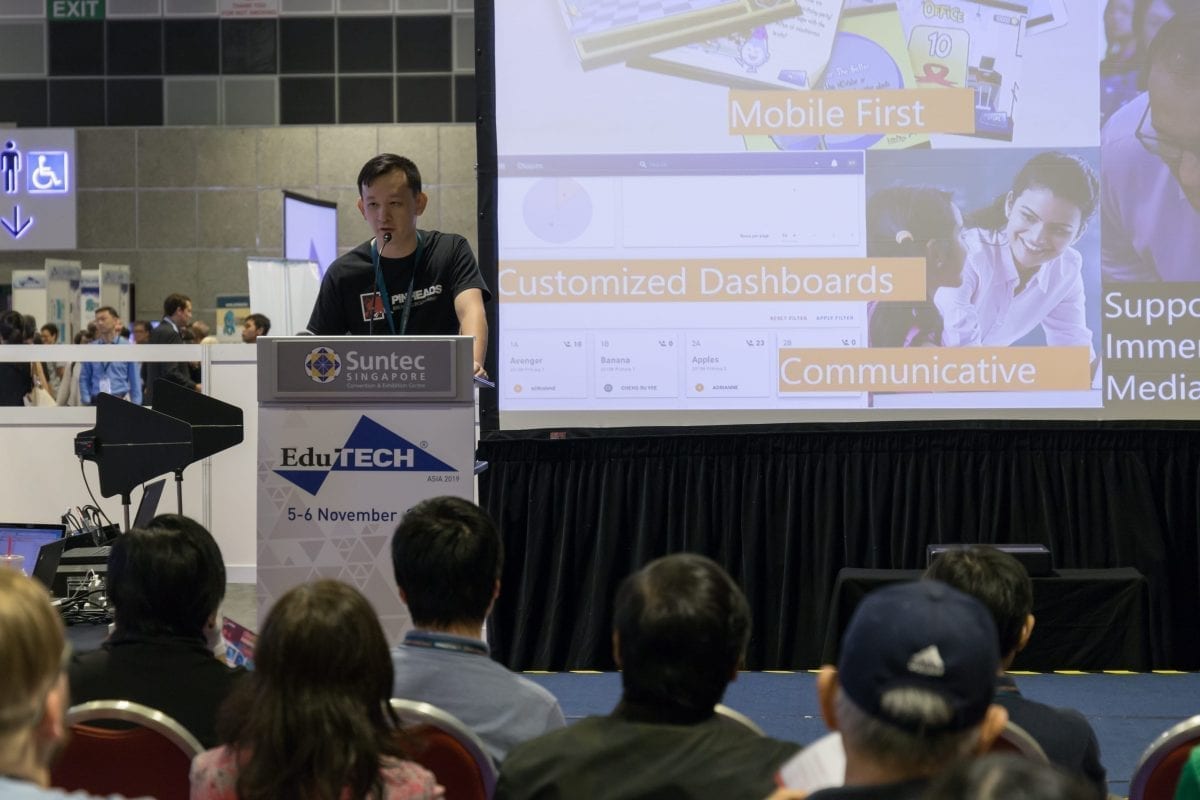 During the event, the company's representative was invited for a 20 minutes talk. Mr. Kurtis Kerk touches on "How multiple apps can be centrally managed together with an LMS". Ms. Nikitha talks about "How technology can be leveraged in learning products with focus on AR, VR, and MR?". She also encourages educators to be more involved in the VR space.
Mr. Kerk started on the failure of iPad Class and what tech companies can do to help students learn better. He also highlighted the rise in the use of E-Learning.
He then further explained what solutions are available to resolve certain issues. In addition, he also explained why educators should support immersive media as a way to better engage students.
Ms Nikitha took the stage and introduced XR and the key differences between three trending technologies namely Augmented, Virtual, Mixed Reality.
She further expanded the topic and explained what can and cannot be done for them. Emphasizing the importance that educators need to be involved in creating the resource. She stressed that their feedback is critical to the success of the projects.
We are delighted to have participated in this year's event and treasure the experience. It was truly rewarding and brought us closer to the education industry.